At
GUINEA HOG FORGE
we handcraft products that are both beautiful and functional. We specialize in creating high quality knives out of carbon tool steels. All of our knives are heat treated, tempered and tested in house to guarantee an extremely durable work of art capable of holding an edge that most production blades simply cannot match. Our resident smith, E. Scott McGhee, is a blacksmith as well as an ABS Journeyman bladesmith and enjoys forging historic kitchen items, tools and unique creations when not making knives.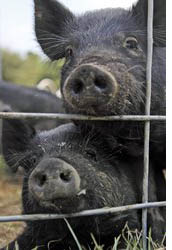 So, what in the world is a
GUINEA HOG
? American Guinea Hogs are a rare heritage breed hog native to the southeastern United States. In 2005, there were only 15 verifiable AGH's in the world, but, thanks to conservation efforts by the
American Guinea Hog Association
and the
American Livestock Breeders Conservancy
, the number of currently registered hogs is around 500. American Guinea Hogs are making a national comeback as part of the
slow food movement
. Guinea Hogs thrive on outdoor forage, have a natural resistance to disease and taste absolutely wonderful. Their meat is red, rich in flavor and is low in saturated fat. Time from birth to the table is longer than with production hogs, but the end product is well worth the wait.
So why
GUINEA HOG FORGE
? We are
American Guinea Hog breeders
, and we craft our products like we raise our food - with old time values, modern ingenuity, hard work, sweat, and only the finest ingredients. Our hand-crafted products take time to produce, but like the American Guinea Hog, they are well worth the wait.